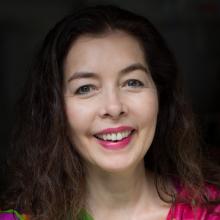 Alexa Fong Drubay
2 Day Certified Leader Training
Date : Oct. 29, 2022 to Nov. 12, 2022
2 Day Certified Leader Training
Hello and thanks for checking out this page.
I train virtually and a bit differently. Prior to the Covid pandemic, I led 2-DAY in-person trainings. I loved welcoming people at my home and hosting these weekend laughter retreats.
However since Covid, during the last 3 years I have switched over to a different, also very effective training. This 3-part zoom training is now spread out over a 2-3 week period. I find that my students have responded better to this type of training, allowing them to absorb the course content in a deeper and more meaningful way. They feel less overwhelmed and can learn in a more efficient way, absorbing lots of new information.
While the first parts can follow eachother closely, the most satisfying part is actually putting your skills to the test in the homework portion. This enables students to have fun with their practice and really see how it feels to lead others through these wonderful laughter exercises, the breathing exercises and the mindfulness meditation. Fellow students support one another during the homework phase by inviting each other to their virtual sessions and they return to the final session, sharing what worked for them and what didn't from their virtual and in-person leading experiences. This also gives them more confidence and allows them to run with their newfound knowlege and develop their skillset so that they can really apply what they've learned (personally and professionally) with confidence and joy moving forward.
Join certified Laughter Yoga Master Trainer Alexa Fong Drubay, CMT for a
very special 3-PART zoom certified Laughter Yoga Leader Training.
Training Dates:
Part 1: Saturday, October 29, 2022
Check in and introductions. Alexa's LY story. Powerpoint re: the history, benefits and applications of Laughter Yoga LY. Experience a full session. What's the difference between a laughter club session and a laughter session for a particular group? Laughter with children and seniors. The 5 Pts/3 Reasons of LY. The 40 Foundation exercises.
Part 2: Sunday, October 30, 2022
Check in, Laughter Yoga session, Laughter Yoga with groups in recovery, medical professionals, prisoners, practicing the 40 Foundation exercises, zoom sessions vs. in-person. How to start up a laughter club. LY food blessing and more! Homework assignments
Homework: two week practicum of laughter online and in-person, LY diary
Part 3: Saturday, November 12, 2022
Check in, sharing homework experiences, Laughter Yoga Session led by students, laughter with corporate groups and private groups, LY business basics, graduation.
zoom Training Times: 12:00 Noon- 5:00PM EST
Training Investment: $425.00 (includes all materials, special bonus materials, follow-up mentoring by Alexa and more!)
This is a life-long certification with no renewal fees. However, it is up to the individuals to stay abreast of the latest updates and happenings in the Laughter Yoga world so that they can stay current with their activities and information.
CEUs: 16 CEU credits are available to Pennsylvannia social workers for attending this training.
Students must attend all 3 parts and complete homework assignments to receive their certification. In case of emergencies, the training can be rescheduled for a future date. Alexa reserves the right to make any changes to the curriculum and scheduling.
REGISTER HERE: https://forms.gle/gKt4M92xVUWRLzDcA
Questions? email Alexa at alexafd@gmail.com or call 215 478 5669.
I would love to help you on your laughter journey. Looking forward to laughing with you!
Alexa