Highlights of LY 2.0
After COVID, the demand for laughter yoga has increased exponentially. As laughter yoga professionals, we need to upgrade our knowledge and skills in different areas of applications of laughter yoga. It is an advanced teaching and coaching program, and you will learn directly from the founder Dr Madan Kataria. It consists of 4 lessons of 90 minutes duration.
Download video and PowerPoint Presentations: All the lessons will be recorded and we will also provide PowerPoint presentations of some lessons so that you can download and use them during your training.
Scientific Research on Laughter Yoga: Research papers are not easy to understand in scientific language. We will simplify them in power points along with images and graphics which you can download.
You will learn exercises with a scientific and logical explanation that will motivate people to do these exercises.
Small things that can make a big difference to your health: Along with medical practice, I was also an editor of a health magazine. I will share with you some health tips which can be used in daily life.
Learning through Laughter Guru App:
You will also watch videos listen to the audios, and read documents through Laughter Guru App it will be more convenient to watch videos and read articles on your mobile phone through the App
LY 2.0 Syllabus (Season 1)
Lesson 1
Neurobiology of Stress: What is stress, positive stress and negative stress, causes of stress and acute and chronic stress.Understanding the sympathetic nervous system, Hypothalamus Pituitary Adrenal Axis as well as the stress cocktail - Cortisol, Epinephrine, Nor Epinephrine. You will also learn the signs and symptoms of stress. Stress management techniques: How laughter yoga helps in stress reduction.
Scientific Research: One Scientific research which every laughter yogi must know. New Zealand study from Auckland university confirms that Laughter yoga exercises have better effects on our body and mind than laughter coming out of humour, jokes and comedy.
The psychology behind very good very good yeah. the childlike cheer
Explaining laughter exercises with health benefits: If Laughter Yoga exercises are conducted by explaining the health benefits, it will inspire and motivate people to do these exercises with more enthusiasm
Health tip: Lemon and warm water after oily and greasy food
Lesson 2
Neurobiology of Laughter: Understanding the parasympathetic nervous system (PNS) and Vagus nerve, which is the key to stimulate PNS. You will learn how to activate the vagus nerve through diaphragmatic breathing and belly laughter. Understanding all about the Laughter cocktail, Endorphins, Dopamine, Serotonin and Oxygen, growth hormones and Nature Killer cells and interferons neurobiology of laughter. How can laughter and breathing exercises help to activate the parasympathetic nervous system?
New Laughter Exercises: How to connect with the Universe. Laughter exercises with five elements. (Earth, Water, Fire, Air, and Space)
Scientific Research: Russian study in a retail chain group to measure the efficiency and performance of the employees' Japan study connecting with the universe through laughter
Health tip: Learning Emotional Freedom Technique (EFT). By tapping on certain acupressure points how can you heal yourself from common symptoms in daily life and change your habits.
Lesson 3
Understanding depression: What is depression? Signs and symptoms, why people get depressed, different types of depression, neurochemistry of depression, brain areas involved in depression, sources of serotonin, mid brain and gut microbiome. Gut brain axis, role of probiotics in serotonin release, food that increase microbiome population (probiotics and prebiotics) what kills the healthy microbiome. Natural treatment of depression. You will lar how laughter helps to alleviate depression
New Laughter Exercises:Learning new laughter exercises connected to spirituality.
Health tip: You will learn how alternate cross breathing (Anulom Vilom) or yogic breathing balances your sympathetic and parasympathetic system. Learn how the left nostril breathing can calm down your stress and right nostril breathing can raise your energy levels.
Scientific Research:Scientific Research: How laughter yoga helps to produce more serotonin in depressed patients - Korean Study.
Lesson 4
Understanding Anxiety: This lesson will focus on understanding anxiety, signs and symptoms, different types of anxiety disorders, what is Post Traumatic Stress Disorder (PTSD) anxiety with depression, anxiety and stress, how LY can helps to alleviate anxiety and depression.
How to do breathing exercises in between laughter exercises
New laughter exercises: Laughter exercises with it's historical context which originated in India
Introducing laughter pledge
Health tip: How to do oil pulling, an ancient Indian practice of swishing your mouth with oil to remove toxins and bacteria.
Scientific Research:Iranian research comparing effects of LY and Anti-anxiety medication on patients suffering from irritable bowel syndrome.
Date Time and Cost
LY 2.0 Schedule (Each lesson 90 minutes)
4 Lesson Dates
May 7th, 14th, 21st, 28th 2022
Timings
8.30 PM Indian Standard Time
USA/Can PST – 8:00 AM, USA/Can MST – 9:00 AM, (USA/Can) CT /Mexico – 10:00 AM, USA/Can ET – 11:00 AM, Brazil – 12:00 PM, UK – 4:00 PM, Europe – 5:00 PM, Israel/Russia – 6:00 PM, UAE – 7:00 PM
Coaching Platform: Zoom
Cost: USD 99
IMPORTANT: In case you miss any lesson, you will get the recording of the same.
Facilitators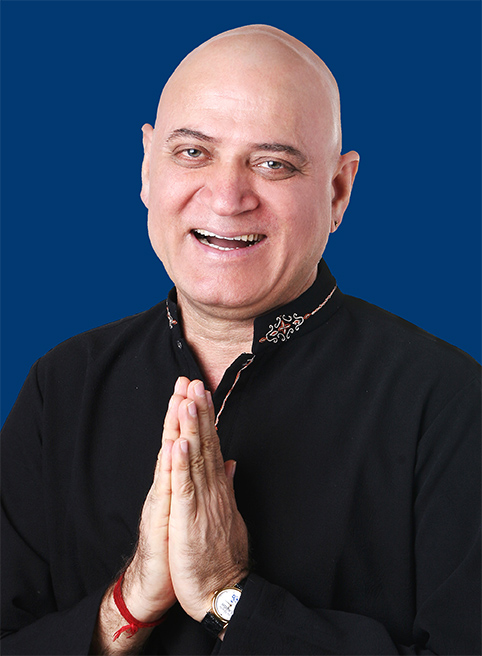 Dr. Madan Kataria, a medical doctor from Mumbai, India, popularly known as the 'Guru of Giggling' (London Times), is the founder of Laughter Yoga which grown into a worldwide movement with thousands of Laughter Yoga clubs in over 100 countries.

Dr.Madan Kataria from his 25 years of experience can teach you special guided techniques how to laugh all by yourself, with your family and your colleagues. Dr. Kataria is a keynote, motivational and inspirational speaker for companies, corporations and organizations all over the world. He is also a corporate consultant for holistic health, stress management, teambuilding, leadership, peak performance and communication skills.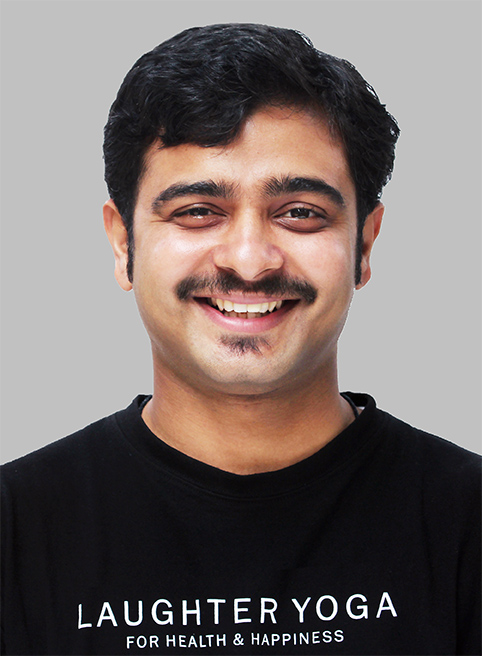 Vinayak Shastri is a Certified Laughter Yoga Teacher and Master Trainer, personally trained by Dr Kataria and has assisted him in International training for seven years. He has excellent facilitation skills to conduct corporate seminars. Also, he has conducted training and workshops in Japan, Hong Kong and China.

He completed his master's degree in traditional yoga from S-VYASA University, Bangalore India. He has conducted several online laughter yoga workshops. He has widely travelled all over India to set up free social laughter clubs and conducted seminars in prisons, schools, Indian army police and commando training centres.
Register and Pay for LY 2.0 - USD 99