Laughter Yoga Transformed Me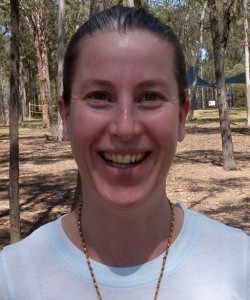 I've always laughed a lot in the USA, but after moving to Japan, I began to feel I didn't have enough laughter in my life. Whenever I got together with American friends in Japan, all of us would say how the one thing we really missed was laughter – real belly laughs.
Later, an American friend in Japan, asked me to go to Dr. Kataria's 2-day Leader Training in Tokyo. I had no idea what Laughter Yoga was, never even looked at the website, and I'm the type of person who never joins groups, but I went just because my friend had asked me to.
As soon as the training started, I immediately felt at home, and loved it. After the first day's session, I felt like an old futon that had been aired out in the sun and fluffed up, and become new and fresh. It was a revelation that I could actually Laugh For No Reason – like riding a wave. I felt like a switch inside me had been turned on, or I had found a new room in my mind, and I could feel that I would continue to have that ability, any time I wanted. I was also surprised to find that I felt intimate with the other people at the training, just by laughing with them. I had never realized that laughter is such a powerful form of intimacy. We didn't have to talk, or get to know each other, or make any effort to change.
Somehow, just by laughing, I had stripped my negative judgments. I was even more surprised to find that the feeling of openness extended to total strangers on the street. On our way home from the training, I felt friendly towards everyone I met. My friend and I decided to start a Laughter Club in our town, right away. For many years, I had wanted to get more involved in my Japanese community, but had never been able to find an enjoyable way. Laughter Club turned out to be a way for me to give back to my community, while doing something that I love. I've experienced firsthand, that if we put aside our cynicism, and do a simple thing like laugh; we truly become more tolerant and humane.