Laughter Yoga Therapy for Stress Release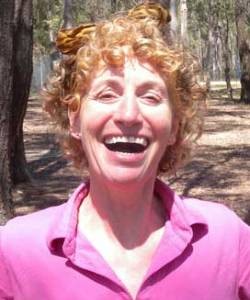 I first experienced Laughter Yoga when the Women's Wellness group I am involved with decided to run a Fun & Laughter Day in Myrtleford, North East Victoria, Australia in 2007. We invited a speaker to hold a "Laughter Workshop" for us. He explained the marvellous health benefits to us then ran us through a Laughter session. Well, I just thought Wow! It felt strange to be laughing for no other reason than andmucking about and playing, it was fun. It felt good, and was very liberating to play like a kid. I was left feeling terrific, very happy and light hearted. I couldn't help myself, I was hooked and wanted to learn how to do this. I planned to start a Laughter group in our town.
Well it didn't happen. Life was busy & two years went by in a flash. I didn't forget about Laughter Yoga, it was just there in the back of my mind.
On the Jan.7, 2009 a devastating bushfire hit our region. Luckily the wind changed direction and the fire front missed us, however many of our neighbours were not so lucky. Homes, livestock and lives were lost. Within hours our happy community was turned up- side down and lives were changed forever. Local government and support agencies were immediately implemented, they did the very best they could. They offered counselling, finance, food, whatever was needed. However the stress was felt not only by the fire survivors, it was felt by the whole community. Just about everyone connected with the rebuilding of shattered lives.
That's when the time came for me to do it. Bring the wonderful benefits of Laughter Yoga to Myrtleford. I immediately booked myself in for Laughter Yoga Leader training, it just happened to be the following weekend. The next week was spent in promoting the new Laughter Club. The first week 25 people turned up. Before I knew it people were spontaneously laughing and playing before my eyes. Our stress evaporated and everyone felt a huge sense of release, it was like magic.
The spirit of laughter followed us as we went for a coffee, the patrons at the coffee shop joined in the laughter when we told them we had just been to Laughter Club.
I have watched the Laughter group members become more relaxed. They have learned to lighten up and laugh at things which had caused then pain. The problems of rebuilding their lives have become less overwhelming. They are more energised and ready to face each day with a lighter heart.
Laughter Club has given me all of the above plus a huge sense of achievement in bringing this wonderful medium to Myrtleford and beyond. Who knows where it will lead.
And you know what? It's so me!
Very Good, Very Good, Yayyyyyyyyyyy!!!!