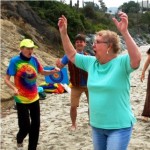 "Create a GREAT Bio!" Workshop
Who are you? A great question...and can you put who you are into words that help you reach your professional goals, whatever they are? Join Merv Neal for his "Create a Great Bio" workshop to help those goals, discover what a Great Bio looks like as he leads you through the steps of creating your "Great Bio"!
June 17, 2022
7:00-8:30PM PDT
ONLINE Event: The Workshop will be recorded.
$25.00
No matter what your business is, Laughter or something else, A "Great Bio" could be the first step to getting your foot in the door!
Merv Neal, CEO of Laughter Yoga Australia, http://laughteryoga-australia.org/.
Send an email to mervneal@maurant.com.au to receive an invoice for payment and the Zoom link to participate. Australian exchange rate may apply. Time Zone converter: https://dateful.com/time-zone-converter
Check out https://www.laughteryogafun.com/workshops for more workshops.