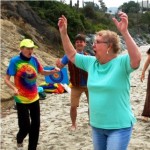 "From FREE to FEE with Laughter!" Workshop
Is it possible to make money from laughter?
Only if you know what to do ha ha!!
7:00-8:30 PM, Pacific Daylight Time
Who should attend besides Laughter Yoga Leaders & Teachers?
Anyone starting a small business or thinking about it. Lots of good business information!
The Business of Laughter
Merv Neal is Managing Director Maurant Business Associates. He has more than 52 years experience in successfully owning and managing his own companies, and is presently the CEO of Laughter Yoga Australia and Director of Holistic Services Group. His "unique" presentations and workshops are based on the 1 Page Business Plan and The Balanced Scorecard which have been designed for the Small to Medium Enterprise market to enable them to develop their business strategy for growth. Merv is a professional speaker, facilitator, and trainer and has a State Government contract with Small Business Victoria to run workshops on Business Planning. He is currently working with many organizations to help them to develop personal, work, and health plans. He has created a 2 Day Business Training Program for those wanting to take themselves to the next level. More information for this can be found at http://laughteryoga-australia.org/laughter-yoga-training-business-dates/
​$25.00 Australian Exchange Rates Apply
Send email to Merv Neal to receive payment invoice.