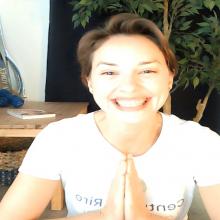 Happy Club 😊 Tap into your Laugh Center
Laughter Clubs are Free
LaughterYoga Clubs are socialclubs that are free for everyone anywhere in the world. While other Laugh Center services and programs have a cost, we do not charge any membership fee for our Happy Club sessions.
https://us02web.zoom.us/j/84248035158?pwd=azBZWFdxeXFNNVJpRWc1eTFBdU1sQT09
Health Benefits
Laughter Yoga is like an aerobic exercise (cardioworkout) which brings more oxygen to the body and brain and helps people of all ages feel more healthy and energetic.
Laughter Yoga strengthens the immune system, which helps prevent you from falling sick. Laughing as an exercise also helps to heal a variety of illnesses like hypertension, heartdisease, diabetes, depression, arthritis, allergies, asthma, bronchitis, backache, fibromyalgia, migraineheadaches, menstrualdisorders, cancer and many others.
Training
In order to start a Laughter Club, one needs to be trained as a Laughter Leader/Teacher. Daniella Le Gresley, also known as @laughwithdani and #happydani is a Certified Laughter Yoga Teacher (CLYT) practicing out of Montréal, Canada 🇨🇦
Laugh Center Happy Club sessions are facilitated by Happy Dani and are 30 minutes long, with breathing and stretching, followed by laughter exercises and meditation.
Click on the 🎥 Zoom 🔗 link above to join the Happy Club, we laugh every Tuesday from 11:30am to 12:00pm ET or contact me to find out more about other Laugh Center services and programs.
Peace Giggles,
Happy Dani 😊
Daniella Le Gresley
CEO & Founder
L.A.U.G.H.T.E.R. Strategist
Creator of Laugh-A-Lotes 😂😂😂
Certified Laughter Yoga Teacher (CLYT)
Certified Neuro-Linguistic Programming (NLP) Coach
Personal Support Services & Home Health Care Solutions
Laugh Center • Centre du Rire
+1 514 497 6280 | info@laughcenter.org
www.laughcenter.org